Are you looking to take your backyard grilling skills to the next level? You'll want to check out this complete guide of must-have grilling accessories.
From fire extinguishers to a smoker box, discover helpful and fun additions that'll make every barbecue memorable!
Introduction
Grilling is the perfect way to bring friends and family together for a delicious and creative meal. Whether you're an experienced cook or just beginning to master the art of outdoor cooking, having the right accessory tools can make all the difference in your grilling experience. Whether you're using gas or charcoal, some necessary tools will elevate any backyard cookout. Read on for our guide on must-have grilling accessories to help you create a memorable backyard party!
Before browsing through our list of essential grilling gear, take time to consider what type of griller you are as that can make a difference when deciding which accessories are best for your setup. Gas or charcoal? Will direct heat be used for most of your dishes? Or will indirect cooking methods be part of your repertoire? Determining these variables will make it easier to select items from this list that best suit your individual needs.
Now, let's get ready to grill! Here is a collection of must-have grilling accessories that can turn any cookout into an experience not soon forgotten.
Importance of grilling accessories for backyard partie
Backyard barbeques have become a popular tradition, and when it comes to throwing the perfect party, you'll need more than just your main dish. Achieving optimal flavor and less stress while hosting an outdoor gathering is only possible through the use of grilling accessories. A garden party will only be as successful as the tools you use to prepare your recipes and that's where specialised grilling items come in handy.
They not only guarantee safety for both the host and guests but also contribute in creating a unique taste for BBQ lovers. But what accessories should you give attention to when hosting a backyard grilling event? Here is some essential equipment that every savvy barbeque chef needs in order to barbecue like a pro.
-Grill brush: To remove grease and food particles from before and after grilling
-Spatula: For flipping burgers, pork chops or other grilled items
-Tongs: Help turn over food while still keeping it intact
-Knife: For cutting through cooked items or checking if steak or chicken is cooked through
-Grill cover: To protect grill from weather conditions and unwanted visitors
-Kettle Grill Tables & Accessories: Provide ample space for everything needed during cooking such as sauces, marinades, seasonings or napkins
-Oil sprayer/ mister: Ideal for distributing oil onto hot grill prior to cooking without burning hands!
Additional Grilling Accessories
In addition to the basic grill, there are a number of other grilling accessories that you're going to want to have on hand when you're throwing a backyard cookout or party. These accessories will make your barbecue easier and help you achieve great results.
-Grill thermometer: A thermometer will help you cook food at the right temperature.
-Metal tongs: Have at least one pair of long metal tongs to move things around on the grill.
-Grill brush: To keep your grill clean, use an appropriate grill brush (no wire brushes!) after each use.
-Grill gloves/heat resistant mitt: You'll need some way to handle hot items safely, so be sure to get either heat-resistant gloves or mitts for this purpose.
-Basting brush: Use a brush with silicone bristles for basting your BBQ with sauces and marinades.
-Spatula: Be sure to have a good spatula on hand for flipping burgers and getting items in and out of the firebox safely.
-Wire food basket: If you're going to be doing any more delicate cooking, like vegetables or fish, then investing in a sturdy wire food basket can save time and effort in comparison to using metal tongs all the time.
Grill Mats
Grill mats are an invaluable accessory for backyard grilling parties. They help protect surfaces from direct contact with heat and make food easier to handle without the risk of burning.
There are a few different types of grill mats to choose from – charcoal, gas, electric and even infrared grill mats – so you can choose the one that best suits your needs. Most are made from non-stick material, making them easy to clean, plus many provide plenty of non-stick surface for even cooking.
Some grill mats come with built-in thermometers for precise temperature control and allow foods to cook at a safe temperature without requiring maintenance or monitoring by the person grilling. Finally, some models are designed to work on both gas and charcoal grills so you have more versatility when it comes to outdoor cooking.
Skewers
Skewers play an important role when hosting a barbecue or grilling a kabob dish. For larger items like cubes of meat or vegetables, bamboo or metal skewers are the best bet for secure and even cooking, plus they're easy to move around on the grill.
Bamboo skewers should always be soaked in water prior to use to prevent burning. Metal skewers come in two varieties – flat or round-pronged – with flat skewers being better suited to larger items like chunks of meet and fruit while the round-pronged version is perfect for smaller veggies like mushrooms, tomatoes and onions.
If you find that food is slipping off your skewer while cooking, try fanning out vegetables into petal formations with spaces between them so they lay every surface area open to contact with heat.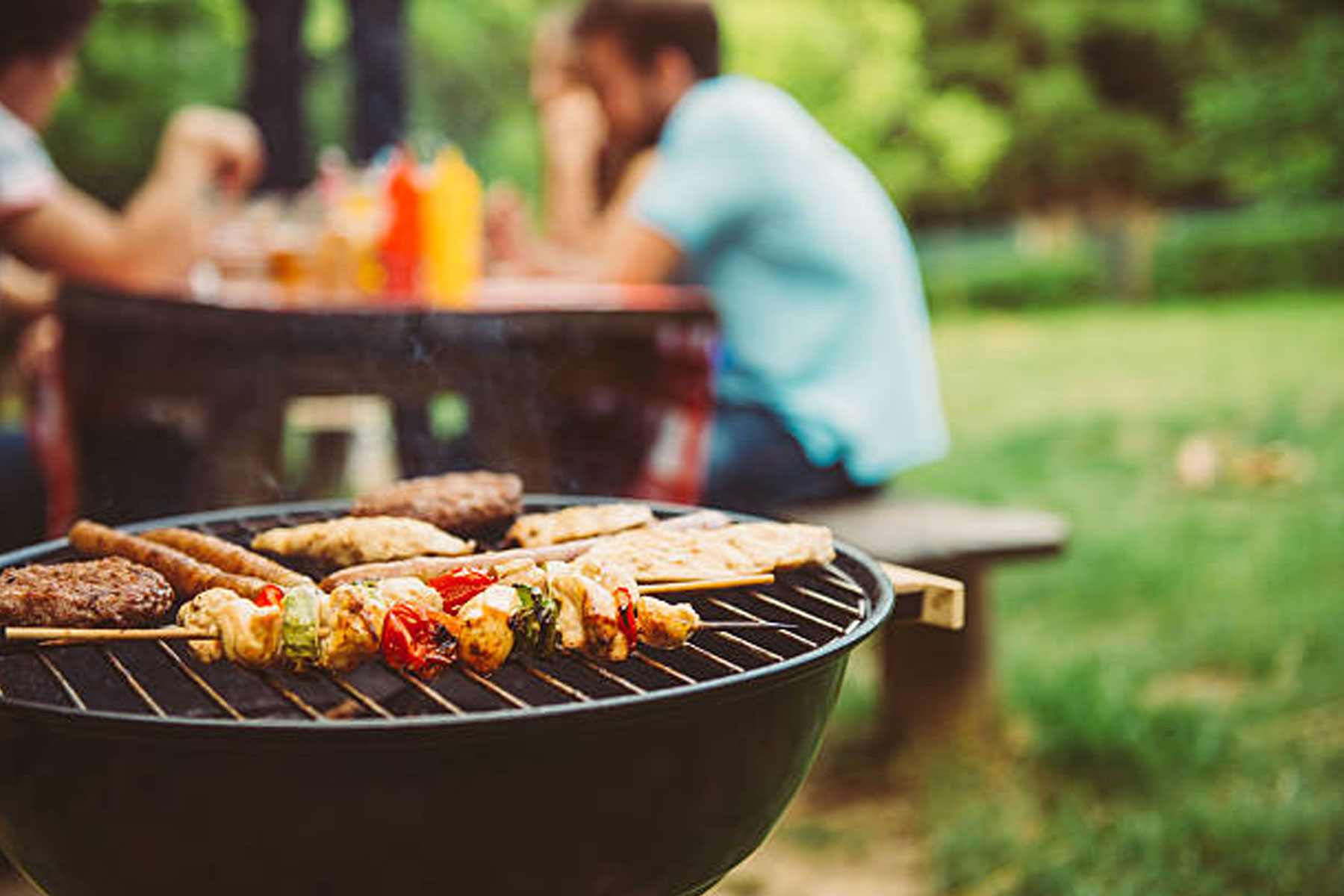 Meat Injector
A meat injector is a specialty tool designed to help add flavor and moisture to larger pieces of meat. It can be used to inject marinades, sauces, broth and flavors into the flesh. This device looks like a syringe with a long stainless steel needle on one end. The plunger allows you to control the amount of liquid you are able to inject into the center part of the piece of meat. It can be used for large roasts, taquitos, pork loins, chuck roasts and turkey breasts.
When using this device, it's important not to over-inject as it can cause uneven cooking and a mushy texture. For best results, marinate for at least an hour before grilling for maximum flavor infusion.
Accessories for Comfort and Convenience
For outdoor grilling, it's essential to have all the necessary accessories that can make your cooking experience enjoyable and convenient. There are a variety of accessories available in the market ranging from tools to enhance your efficiency to items that provide convenience and even comfort. Here are some of the must-have grilling accessories for backyard parties:
Aprons: Aprons are a must-have item for outdoor grilling. They protect your clothing from grease splatter, spills and other messes that occur while cooking outdoors. It's also important to make sure you find an apron with adjustable straps or ties so that you can easily tighten or loosen it depending on how hot the grill is at any given time.
Grill brushes: A good barbecue brush is essential for cleaning the surface of your grill after each use. Grill brushes come in different shapes and sizes, but they should always have stiff wires that can break through tough grease buildup on the surface of the grill. Be sure to look for barbecue brushes with ergonomic handles so they are easy to grip while scrubbing away residue.
Tongs: Tongs are an absolute must-have accessory when grilling outdoors because they provide needed control over large food items like steak, burgers and vegetables without damaging them or transferring any hint of flame directly onto fingertips. Many tongs come with multiple heads such as scissor heads, spring heads and locking tongues which provide optimum control depending on different needs.
Spatulas: When it comes to flipping foods on a hot grill, nothing beats having a good set of spatulas at your disposal. Spatulas come in many varieties from stainless steel to silicone models which offer superior heat resistance as well as flexible curves ideal for maneuvering large cuts of food without damaging them in any way. Look out for designs with enameled handles which remain cool even when placed over open flames!
Folding Chairs and Tables
Folding chairs and tables are essential for comfortable seating and prep space when hosting a backyard gathering. Choose lightweight options that are easy to carry, store and transport. The best folding chairs have an easy-slide locking mechanism that ensures they stay closed while in use, plus feet covers that offer protection from marring your patio or deck surface.
Tables should provide right-sized surfaces for all of your outdoor needs—from food prep to serving up drinks. Look for folding tables with quick unfolding capabilities and water-resistant surfaces that stand up to spills as well as wet weather.
Coolers
When hosting an outdoor barbecue or gathering, a cooler can be an indispensable item. There are a variety of different options available when it comes to coolers, and depending on your group size and budget, you can find just the right option for your needs.
For smaller groups and occasions, light-weight soft-sided insulated coolers are perfect for keeping food and beverages chilled. These typically have compartments that can store all the snacks and utensils you'll need during your grilling session. For larger gatherings, heavy-duty wheeled coolers make transporting food to your grill master's station quick and easy.
Also make sure to pick up items like ice packs that will help keep things cool longer as well as coolers with built in locks to help ensure no one helps themselves to more ribs or chicken wings than they need! With the right cooler selection, you'll have tons of delicious foods ready to cook from start to finish!
Tips for Choosing Grilling Accessories
When it's time for you to pick out grilling accessories, there are a few tips that can help you make the best selection.
First, establish what type of grill you have and the type of food you are going to grill most often. For example, charcoal grills will require different accessories than gas grills. Charcoal grills will need tools like a pair of long-handled tongs and spatula while gas meals might call for angled brush heads or a meat thermometer.
Next, consider your budget and the amount of usage that your tools will be receiving throughout your BBQing season. If you entertain frequently, then splurging on higher-quality items might be worth it in the long run. If not, then mid-level items should suffice for occasional use until something better is needed down the road.
Finally, know what features or benefits each tool or accessory offers before deciding to buy and make sure that your selections are dishwasher safe for easy clean-up after use. Grilling is an enjoyable outdoor activity—having the right grilling accessories can make it even more fun!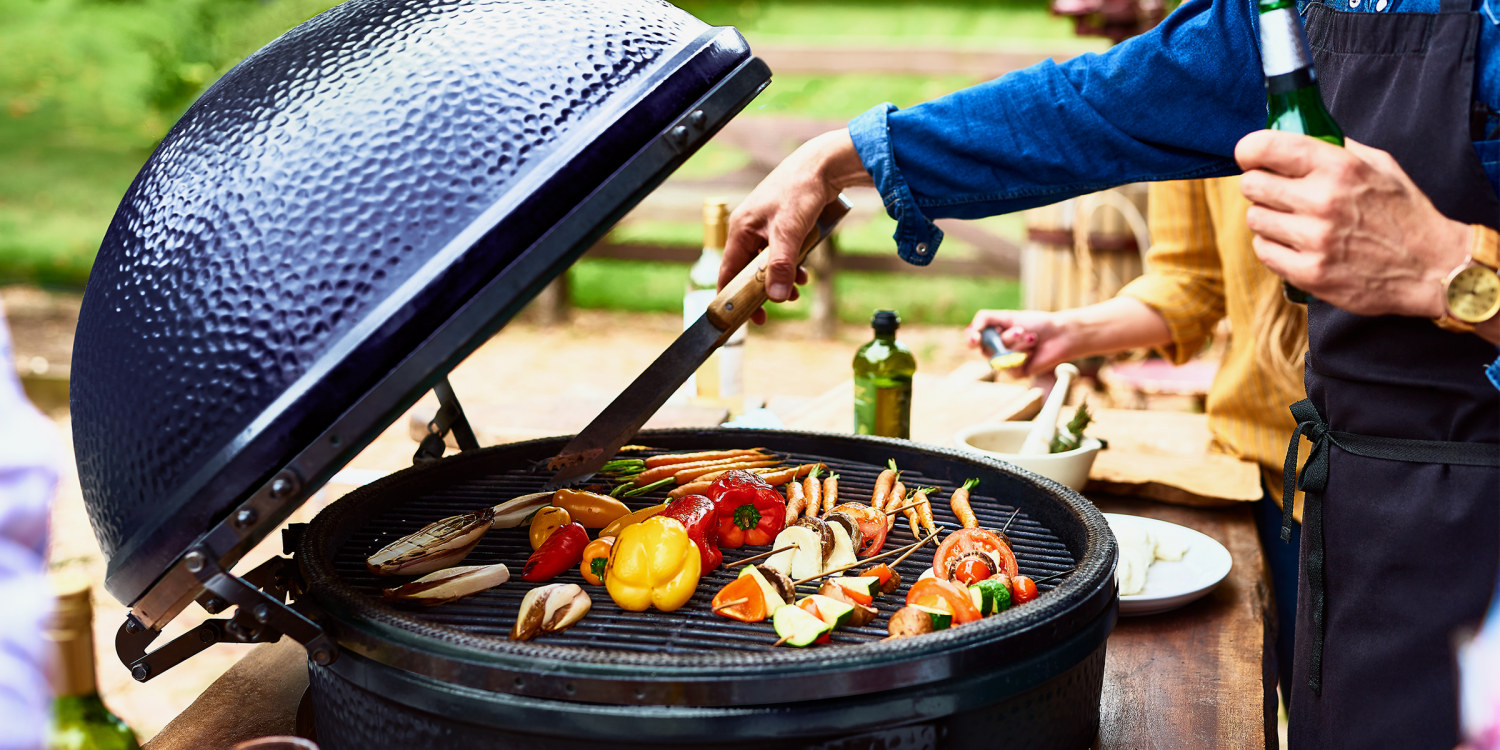 Quality and Durability
When it comes to buying grilling equipment, the two most important factors to consider are quality and durability. Low-cost products may work just fine for casual use, but for backyard grilling parties, you will need accessories that can withstand the heat and wear and tear of a busy party.
High-quality grilling accessories should be made of durable materials such as stainless steel or heavy gauge aluminum so they last longer and provide a consistent performance. Look for professional grade or commercial grade grilling tools that come with warranties included to guarantee your satisfaction.
Additionally, make sure to opt for products with heat-resistant handles or tongs so you don't run the risk of burning yourself while flipping burgers or steaks.
Compatibility with Your Grill
Ensuring that your grilling accessories are compatible with the type of grill you have is essential. After all, what's the point in investing in items that you can't even use? Therefore, ensure that the product specifications closely match up to those of your grill.
For example, buy a thermometer designed for gas or charcoal grills or a tool set suited for ceramic grills. Depending on your grill type and model, there may only be certain accessories available for it—do your research beforehand and make sure every purchase is a worthy one.
Conclusion
In conclusion, grilling is a wonderful way to cook delicious foods with very little fuss. With the right tools and accessories, your grilling experience can be taken to the next level. We've discussed brushes for cleaning grills, thermometers for accurate temperatures, utensil sets for efficient cooking and serving, portable grill stands for easy transport and storage, mats or pans to prevent food from sticking or burning, lighter fluid or electric starters for quick flames, smoke boxes and wood chips to add flavor to your grill fare, charcoal baskets and flavoring plates that allow you to control heat distribution during cooking and safety gloves that protect your hands while handling hot materials. Finally, we've highlighted some tasty recipes that you can use in combination with these tools!
By equipping yourself with the correct accessories you can create unforgettable masterpieces that everyone will enjoy at backyard barbecues. So this summer—pop open a few cold ones and let the grilling season begin!
See Also :