Are you ready to make your outdoor space the envy of all your friends? Setting up an outdoor kitchen is the perfect way to take your entertaining to the next level.
Here's everything you need to know about creating an outdoor kitchen that you'll be proud of.
Introduction
Setting up an outdoor kitchen for entertaining can be a great way to create an inviting atmosphere and truly enjoy your outdoor living space. Whether you have a large space or just a small patio, you can easily create an outdoor kitchen that fits your lifestyle and provides the perfect atmosphere for hosting friends and family. In this guide, we will explore the necessary steps to set up and maintain an outdoor kitchen so that you can find the best option for your needs.
We will discuss:
1) Planning Your Outdoor Kitchen Space – Identifying what space is available and making sure it's big enough to accommodate all of the necessary items
2) Selecting Your Outdoor Kitchen Appliances – Deciding what appliances are needed for your specific setup
3) Installing and Securing Outdoor Kitchen Materials – Gathering the materials needed to build the outdoor kitchen, such as countertops, cabinets, and tables, as well as securing them properly
4) Maintaining Your Outdoor Kitchen – Making sure your kitchen is clean and operating effectively at all times
5) Enhancing Your Outdoor Kitchen Experience – Adding finishes such as lighting fixtures that further add to its aesthetic appeal
Benefits of having an outdoor kitchen for entertaining
Having an outdoor kitchen provides numerous benefits when it comes to entertaining. Not only does it provide additional workspace and storage options, but it makes hosting large numbers of people much easier.
An outdoor kitchen saves time and energy that would have been spent running back and forth between the indoor kitchen and the backyard or patio. Moreover, having an outdoor kitchen allows for socializing with guests around a central area—allowing for a more relaxed, enjoyable experience.
Having all of your cooking equipment in one place makes meal preparation simpler and gives you more latitude to experiment with various dishes during your gatherings. Additionally, having an outdoor kitchen ensures that spills, messes and smells stay outside the house—greatly reducing cleanup time afterwards.
Designing Your Outdoor Kitchen
Creating an outdoor kitchen for entertaining should be an enjoyable experience. Taking the time to plan the layout and design of your kitchen can ensure that everyone has enough room to socialize and enjoy their meals. To get started, consider these tips for designing your outdoor kitchen space:
-Choose a comfortable location that is accessible from inside and outside the home. Consider how much sun and shade the area will get at different times of day, ensuring your guests won't be too hot or cold.
-Measure the area where you'll be setting up your outdoor kitchen, accounting for any obstructions or furniture pieces you'll need to work around while building.
-Look into different styles of structures such as freestanding units or permanent islands with countertops, wet bars and outdoor fireplaces.
-When deciding on types of appliances, look into energy efficient models that are built to withstand all kinds of weather conditions. For example, a refrigerator designed specifically for outdoor use may require less electricity than one designed just for indoors.
-Consider what kind of eating surface would best suit your needs – stone countertops are great options if you're looking for durability and style.
-Be conscious of storage needs when shopping for furniture pieces – select items with drawers, shelves or cabinets to store barbecue tools, condiments and extra paper plates as they may come in handy during a party!
Choosing the location of your outdoor kitchen
Selecting the right location for your outdoor kitchen is key to creating an enjoyable entertaining experience. When deciding where to put your outdoor kitchen, you should consider a few factors such as ease of use, access, weather protection, view and ventilation.
Ease of Use: Choose an area that allows you to move around comfortably during meal prep and entertaining. Consider how many steps it takes to get between the main cooking area, food preparation countertop and dining area.
Access: Make sure that your kitchen is accessible with enough pathways in and out of the space for guests and dinnerware alike. Also bear in mind the proximity of utilities such as gas lines, electricity and water from a nearby source.
Weather Protection: Look for areas that are sheltered from wind and provide some shade for comfort during summer months where temperatures can rise quickly. A partially shaded patio or covered pergola might also be considered if not all or most of the dining/cooking will be done in this space all-year round.
View: Position your outdoor kitchen so you can relax after a home-cooked dinner beneath vibrant stars or take in stunning views from nearby hills or mountainside while preparing drinks and snacks before guests arrive!
Ventilation: Outdoors means more limited ventilation options than indoors but try to find spots with natural airflow by positioning close to open spaces without fencing or walls obstructing air movement on warm days.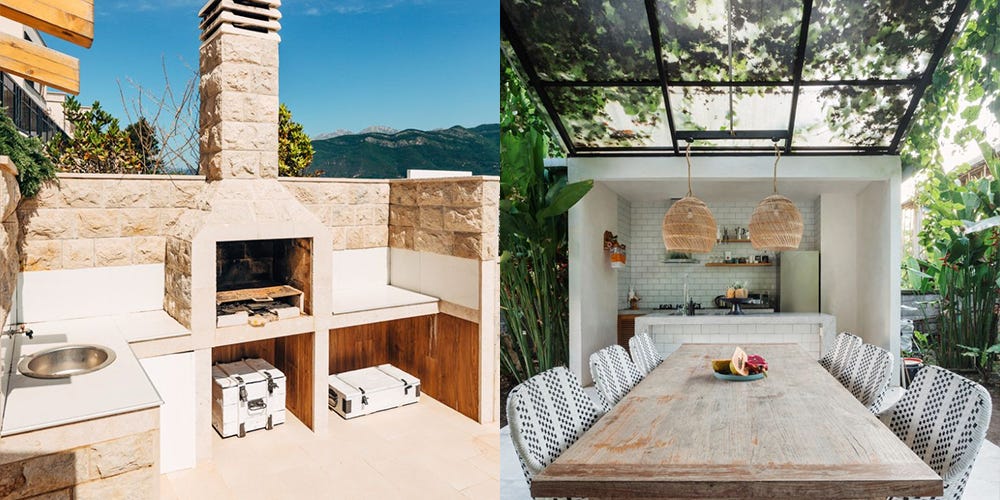 Deciding on the size of your outdoor kitchen
When deciding on the size of your outdoor kitchen, it's important to consider the space you have available. Outdoor kitchens come in all shapes and sizes, and it's up to you to decide what will work best in your backyard. Before investing in any large kitchen appliances, measure the area in which you plan to set up your kitchen and make sure it fits. Additionally, think about any pieces of furniture—bar tables, lounge chairs or dining sets— that you may need to include with your kitchen setup.
Consider whether or not you have plenty of space for a full-length gas grill and top burner, a wet or dry bar area or an entire counter designed for grilling. You may decide that a modest-sized two-burner cooktop with limited counter space is sufficient for what you want to do. It might just make sense for you to purchase separate components rather than an entire unit at once. This can be a good budget option as well since individual components often cost less than an entire pre-made outdoor kitchen setup. With this in mind, plan out your ideal outdoor kitchen so that you know what pieces are necessary and how much extra space all of these pieces require when pushed together side by side.
III. Essential Elements of an Outdoor Kitchen
Creating the perfect outdoor kitchen requires careful consideration of the various elements that bring your space together. Ready to give your backyard a makeover and start entertaining like a pro? Here are some essential elements to consider when designing an outdoor kitchen.
Appliances: The appliances you choose for your outdoor kitchen will depend on how you'll be using the space. For a basic setup, you'll need a grill, but depending on how often you plan to entertain, it might be worth investing in some additional appliances like smokers, griddles or pizza ovens that offer more menu options for feeding guests. Make sure any appliance chosen is rated for outdoor use and able to withstand the weather elements—especially if your outdoor kitchen is exposed to direct sunlight or extreme temperatures.

Countertop surfaces: You need durable counter surfaces that are both easy to clean and capable of withstanding extreme weather conditions so look for materials such as natural stone tiles or porcelain slabs covered with sealant. Other popular options include stainless steel, concrete and quartz as they're resistant to water seepage while looking sleek and stylish at the same time.

Ventilation: When cooking outdoors, ventilation is key in order to remove excess smoke created from cooking on an open flame . Invest in an adequate hood that's large enough to cover most cooking areas plus fit over any large appliances you may have purchased like smokers or grills. Pro tip—position it away from any designated seating area so guests aren't overwhelmed by smoke during dinner parties!

Storage solutions: If floor space is limited in your designated area outside then consider adding wall-mounted cabinets or shelves which can be used store anything from BBQ tools, dishes and cutlery, extra seasoning and napkins – whatever items you plan on using while entertaining outdoors! For more convenience they can also be paired with drawers than run along islands or counters too– maximising efficiency of space both indoors and out! Finally if wanting access without leaving the comfort of home then container boxes placed strategically throughout make refilling gas tanks quick and easy!
Grill
No outdoor kitchen is complete without a reliable grill. When choosing a grill, there are several factors to consider.
First, determine what size and type of food you plan on grilling. Next, decide whether you prefer charcoal or gas-powered grills. Charcoal grills require patience, but they can produce some of the best flavors and aromas for your food. Gas grills heat up quickly and require less maintenance than charcoal models, but they do still need regular cleaning and servicing to continue functioning properly.
Also be sure to consider the size of your outdoor area – choose a model that will fit comfortably into your space without causing clutter or overcrowding.
Refrigerator
When choosing a refrigerator for your outdoor kitchen, it's important to select one that is designed specifically for use outdoors. Outdoor refrigerators are built to withstand weather extremes and will last longer than their indoor counterparts. They come in full-size or half-size versions and can be freestanding or built in to your outdoor kitchen.
You'll have a variety of styles to choose from, including those with stainless steel doors and drawers, as well as ones with custom painted designs if you want something that complements your outdoor space. Many models include features like warming compartments, adjustable shelves and side cabinets.
To ensure energy efficiency and help conserve power, look for one with an additional insulation layer on the back wall and door seals.
Sink
Sinks can be an essential part of any outdoor kitchen, providing a space for food preparation and cleanup. When choosing an outdoor sink for your space, there are several considerations to keep in mind:
– Sink Type: Choose a sink type that is suitable for the environment. Stainless steel or copper are ideal materials as they are durable, weather-resistant and attractive. If you have a smaller outdoor kitchen, consider adding a smaller bar sink as this can be just enough space to perform basic tasks while conserving countertop real estate.
– Drainage System: Ensure that the drain system of your outdoor sink is able to withstand exposure to the elements and can handle entering water properly. The drainage system must be installed according to local building codes in order to ensure proper operability and safety.
– Water Supply: Many home improvement stores sell DIY kits for constructing water supply lines for an outdoor kitchen. However, planning ahead is key when setting up the necessary plumbing — find out what kind of pipe your new sink requires before starting installation, as not all pipes respond well to extreme temperatures or water pressure fluctuations. Additionally, if you plan on plumbing two sinks into one line, make sure to use larger pipes than usual as this will help prevent future clogs or leaks in the lines.
Optional Elements of an Outdoor Kitchen
An outdoor kitchen can be accessorized with all the same amenities you may use when grilling indoors. These optional pieces of equipment can help satisfy your guests' varied needs, provide convenient storage solutions and create an enjoyable atmosphere for everyone. Some popular additions to an outdoor kitchen include:
Side burners: These small cooktops are ideal for boiling liquids or sautéing vegetables while a steak is cooking on the Primary Grill Head. Some models even feature built-in heating elements, giving you a way to keep sauces warm while serving guests.

Refrigerator or cooler: Depending on the size of your outdoor kitchen and how often you plan to entertain, you may want to consider adding either a refrigerator or cooler for beverage and food storage. Many refrigerators designed for outdoor kitchens have separate chilled compartments that allow you to cool multiple types of food at once without mixing them together — perfect for barbecues!

Sinks & Dishwashers: Whether preparing meals or cleaning up afterwards, having access to running water and proper dishwashing facilities makes life in your outdoor kitchen so much easier. Various companies offer special models designed specifically for outdoors, which are usually constructed from more durable materials such as stainless steel with better insulation than typical indoor sinks/dishwashers. Alternatively, you could use an old sink unit from inside (for instance, a laundry tub) that has been adapted and insulated appropriately — just be sure it meets any existing building codes in your area.
Pizza oven
When it comes to outdoor entertaining, nothing beats the flavor of wood-fired pizza from your own brick oven. Pizza ovens are a great addition to any outdoor kitchen and can provide friends and family with fresh, delicious pizzas as well as bread, pies and roasted vegetables.
Setting up an outdoor pizza oven can seem daunting, but with a few tips and tricks, you will soon be impressing your guests with delicious homemade pizzas. Start the process by choosing the right space for your oven — ideally one that is sheltered from wind, rain and direct sunlight. Once you've identified a location, clear out the area of any rocks or debris before leveling off a flat surface of crushed gravel or sand. The exact size of the foundation will depend on the size of your oven; however, you don't want it to be too large so be sure to measure accurately.
Next you can begin building the base for your pizza oven. This would usually include blocks or bricks laid in either a linear or circular pattern — just make sure that it will fit whatever type of oven you've chosen. Leave an ample area for ventilation in the center base before constructing an arch between two sides using firebricks (or similar) which should eventually form a dome shape. You should also leave some space around this dome shape for insulation material like vermiculite or perlite which will help deflect heat away from other surfaces such as pavers.
Once all these steps are complete – it's time to prepare for cooking! Add wood to start up your fire as well as seasonings like oregano, rosemary and thyme if desired prior to baking – presto! Delicious pizzas catered directly from your very own pizza oven!
Outdoor bar
An outdoor bar can be a great way to bring together the layout of your outdoor kitchen and create a space for entertaining friends and family. It's also the perfect spot to grab an ice cold beer or signature cocktail when grilling out! Depending on your space and budget, you can install simple countertops with stools or opt for an upgrade with customized cabinetry. Here are some tips for setting up your own backyard bar:
Measure your space and figure out where you would like to place the bar. Make sure there is plenty of room around it so people have enough space to move around comfortably and easily access all wet-bar features.

Choose a material for the countertop, such as stone, wood, composite, or stainless steel which works well in wet areas.

Install cabinetry in an "L" shape that provides storage and plenty of surface area for mixing drinks or layering plates and platters of snacks; add extra storage with wall-mounted shelving if needed.

Finish off with outdoor rated appliances such as icemakers, sinks, coolers, refrigerators and wine coolers; most appliances are designed specifically for outdoor use so that they can withstand any weather conditions without risking damage.

Add seating either via comfortable chairs or supportive stools—make sure seating is not too close together so guests have enough room to move freely around each other while they enjoy a long day outside together!
Conclusion
Now that you are aware of the essential components required to create the perfect outdoor kitchen for entertaining, you are ready to make your entertaining dreams come true.
From gathering some helpful friends to assemble and install your dream outdoor kitchen to selecting plenty of comfortable seating and décor, you can easily create a beautiful, versatile space. Whether preparing meals for just two people or large groups, an outdoor kitchen provides the convenience desired for outdoor entertaining.
With adequate forethought and planning, every detail for your customized outdoor kitchen can be brought together in one place. Security and safety is key as well so investing in necessary items such as motion activated lighting or having ground fault interrupter outlets installed are also great additions which will ensure your outdoor space is continuously enjoyable throughout the year.
With a beautiful backdrop such as the outdoors with fresh air and sunshine, this could be the perfect place to celebrate special occasions or just enjoy a relaxing meal with family and friends.
See Also :